Nottingham Based Pen Engraving Workshop
We are luxury pen engraving specialists. Out of all the varied quality gifts we personalise at BoutiqueGifts, the engraving of luxury pens is a large part of our inhouse offering. All our branded pens are stocked at our Nottingham based workshop and we deliver personalised pens nationwide on a next day delivery basis. We laser engrave single pen orders via our B2C gift site Boutique Gifts and we also laser engrave multiple pen orders for Corporate customers via our B2B site, UKPrinting.com.
Whether you are a member of the public or a business customer, all our personalised pens are made in the same workshop, conveniently situated next to the two customer service teams. We also have a particularly late cut-off time of 3pm during weekdays for customers wanting to receive an engraved pen gift next working day. Any orders received before 3pm will be picked, laser engraved, packed in our branded packaging and despatched for next day delivery anywhere on the mainland UK. This is also a premium quality tracked delivery service which is insured so customers receive a text message and email confirming when their pen is in transit.
---
Luxury Pen Brands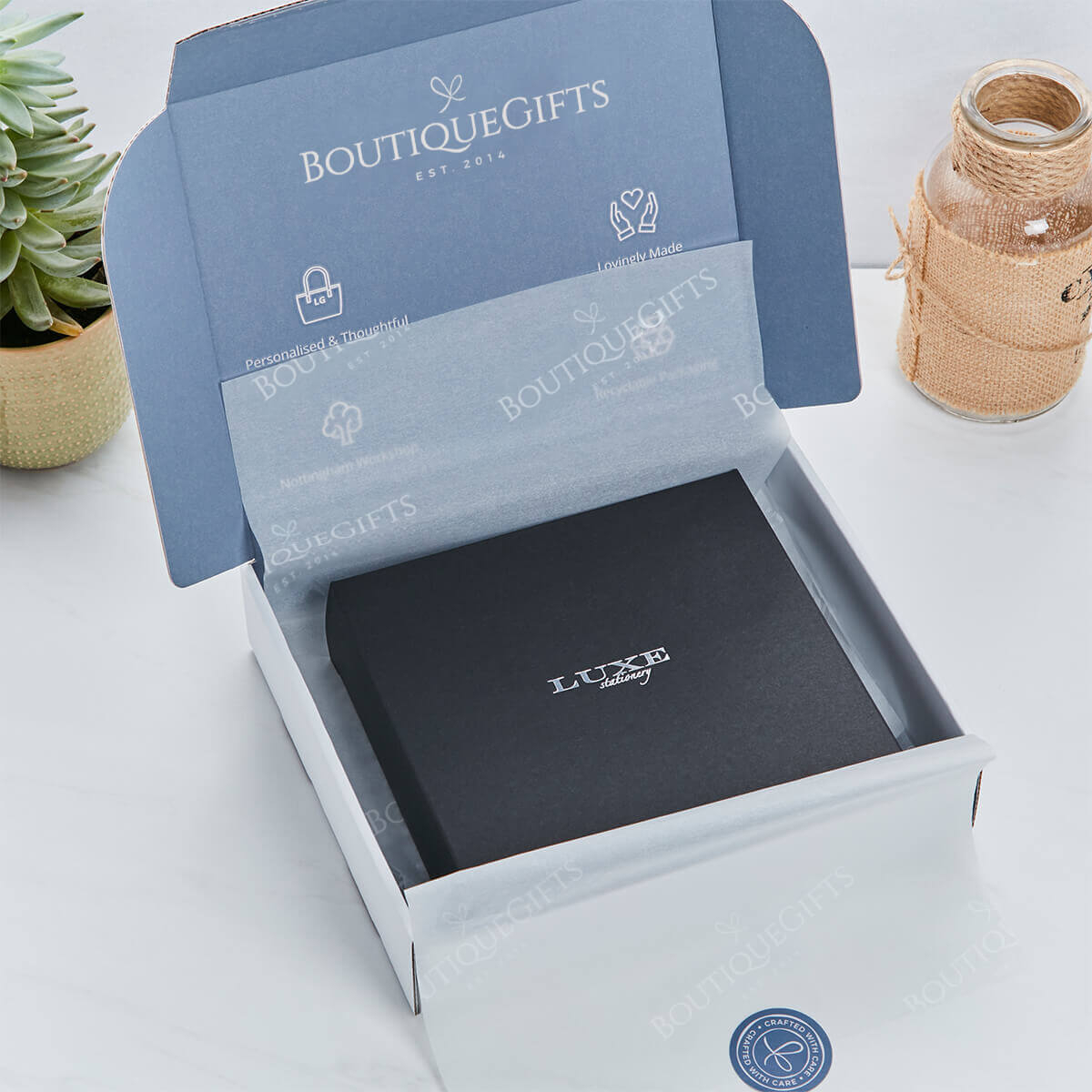 We stock all the leading pen brands and buy pens and pen gift sets direct from suppliers such as Cross, Waterman, Sheaffer and Parker. We've also invested in the latest in-house laser technology. Our engraving machinery is probably more expensive than most engraving machines, but it's British made and uses only the finest quality components. It's proven to outperform all lower cost laser engraving machines and although it will accommodate the majority of metal- based products, we utilise it mostly on higher end one-off personalised pen orders.
It provides a very accurate engraved finish and carefully removes the outer layer of the pen to show the base material underneath. We use different size lenses depending on the size of product we are engraving. A 70mm and 100mm lens provides the smallest spot size with the best definition. When the pens have been engraved using the font the customer has requested, we box the finished pen gift in our branded packaging. All aspects of our printed gift packaging have been carefully considered and all our packaging is recyclable.
Engraved Parker Pens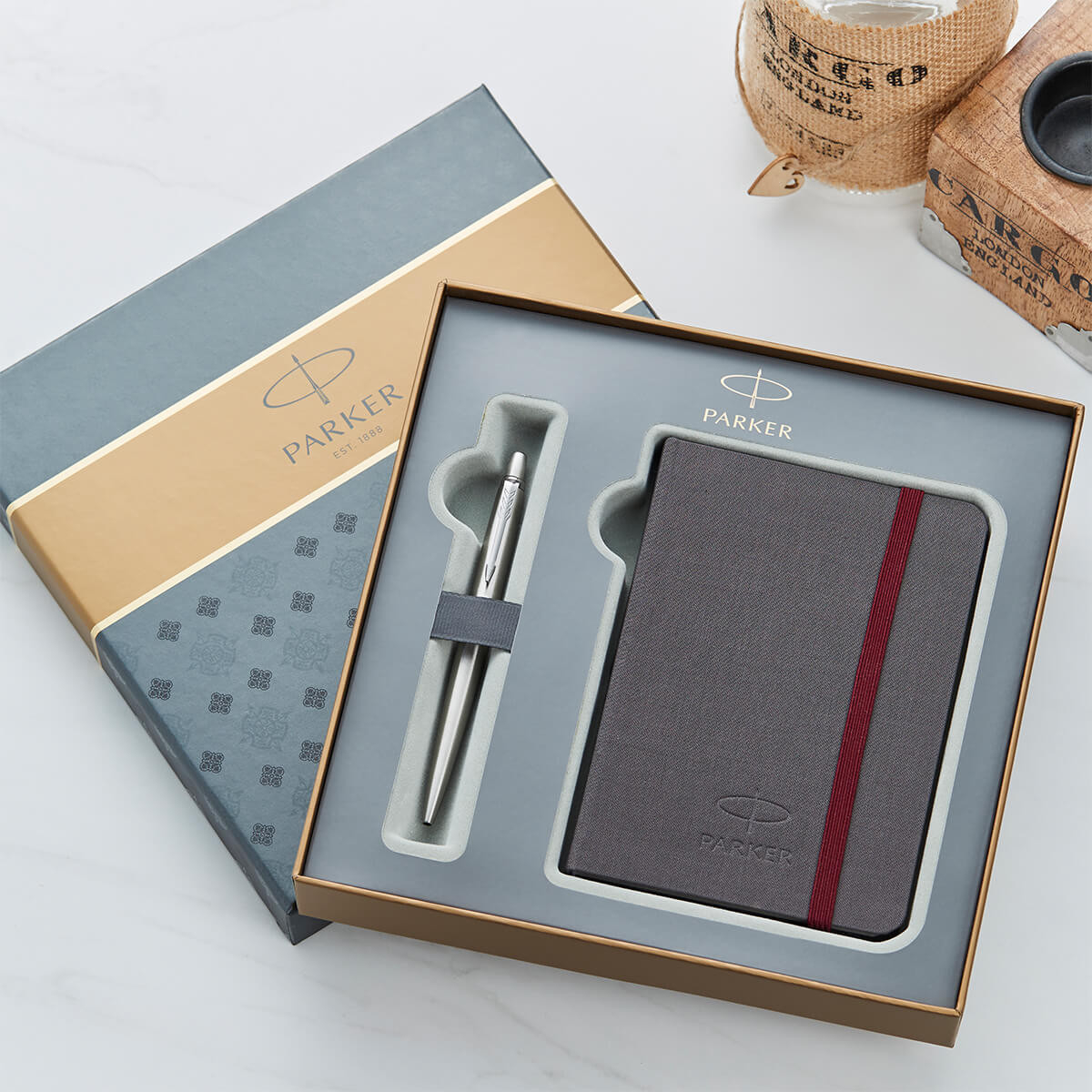 One of our best selling pen brands is Parker. With over 130 years experience, Parker has innovated their unique style and become world renowned for their craftsmanship of exquisite fine pens. This commitment to outstanding craftmanship has earned Parker two Royal warrants which is a highly prized recognition for their continued dedication to the highest standards of service. The Stainless Steel Parker Jotter pens has to be one of the best selling pens on the market. We engrave this traditional model every day and its incredibly popular every-day pen with Doctors and Teachers. We also supply this iconic ball pen pen with its stainless steel barrel and cap but with the recognisable Parker arrowhead in a gold trim finish.
Parker Pens continue to be a good value quality pen for both individual gifts and promotional pen requirements. As our workshop engraves both single and mutiple pen orders, we also sell many Jotter Original gift boxes to businesses. This popular gift set comes with a Magenta engraved Parker pen and 96 page A5 ruled notebook.
A.T Cross Gift Sets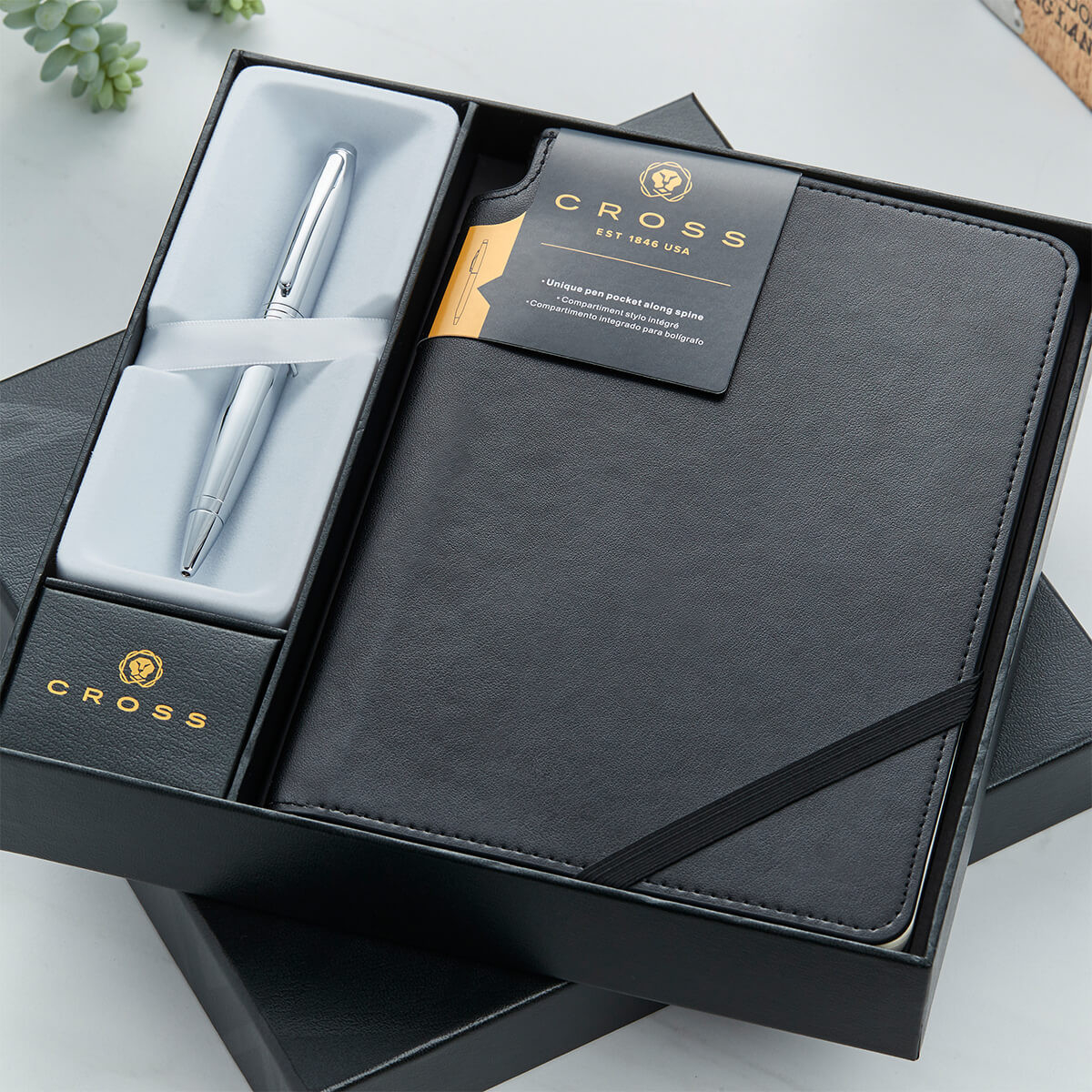 A.T Cross is an American manufacturer of writing implements. Founded in 1846 it is one of the oldest pen manufacturers in the world. Cross products include fountain, rollerball and ballpoint pens. One of our favourite personalised gifts are the Cross gift sets including a pen and notebook. We sell these notebooks in black, white, red and blue.
When purchasing one of these luxury gift sets we provide the option to select the pen colour. The Cross Calais ballpoint pen comes with either a silver, blue or black barrel. The Cross branded notebook is filled with 160 ruled ivory pages and features an elastic closure and ribbon bookmark. There is also a pen pocket fitment in the spine of the notebook.
The engraved pen and branded Cross notebook is carefully packaged in a sturdy black Cross display box. We sell many of these at key seasonal times of the year, such as Father's Day and Christmas. We also sell them to Corporate customers who wish to send several thoughtful gifts to valued clients or staff. We can accommodate both sorts of orders and all our luxury pen gifts are engraved and despatched via a tracked next day delivery service.
Engraved Waterman Pen Gifts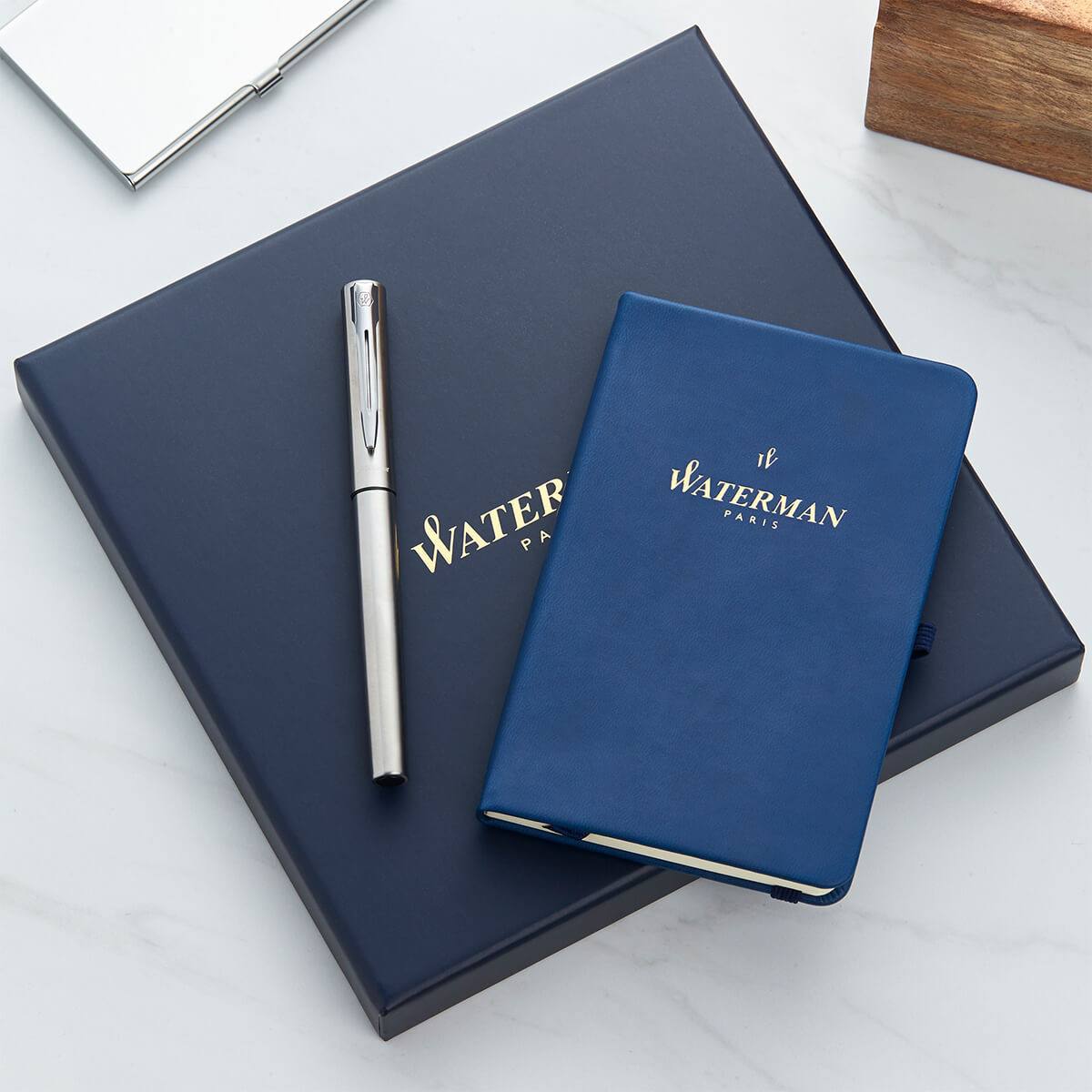 A Waterman pen is a luxury item for those who love to write and appreciate fine craftmanship. We've been working with Waterman pens for years, meaning our in-house experts can engrave these luxury pens with any personalised message.
One of the most popular items in our range is the Waterman Notebook & Pen Gift Set as shown on the left. This luxury pen gift set features the Waterman graduate fountain pen and an A6 notebook, with 80 lined ivory-coloured pages. Another popular pen in the range is the Waterman Hemisphere Rollerball Pen, which exudes elegance, with clean lines and minimalist detailing bringing its stylish simplicity to the fore.
---
Engraved Pens FAQs
Q: Can I get any pen engraved?
A: Most of our pens can be engraved. When vieweing a product if it has a button to 'Add Personalisation' it can be engraved.
Q: How long does it take for my engraved pen to be despatched?
A: For our express range of engraved pens we will despatch within 24 hours of your purchase. However, for orders where you select next day delivery, we will despatch the same working day on orders made before 3pm.
Q: How do I get my pen engraved?
A: When you're happy with the style of pen, select 'add personalisation' and select your font and any other options, then click 'Personalise This Gift'. This will then allow you to enter a name and show a preview of the engraving. Once you're happy with the message on the pen you can click 'I'm Done' and add your pen to the basket.
Q: Which fonts are available?
A: We offer three font options for engraving your pen, which are Monotype Corsiva, Times New Roman and Calibri. However, if you're wanting a specific font or logo on your pen, contact us on sales@boutiquegifts.co.uk and we will assist with any bespoke designs.
Q: Where will my pen be engraved?
A: Most pens will be engraved on the barrel, but our personalisation tool will help give you an accurate preview of exactly where your engraving will sit. All pens are engraved left to right, so it is visible when a right handed person holds the pen. If you want the engraving to be visible for a left handed person we can do this on request, but please contact us prior to making your order on sales@boutiquegifts.co.uk to confirm.
Q: Which pen is the right one for me?
A: As we have a selection of pens to choose from, it can be daunting at first to narrow down from the options available. We'd recommend to first choose the style of pen you would like, whether that's a ballpoint pen, fountain pen or a rollerball pen. From there it's easier to filter down to the looks, price and brand of the pen you'd like to choose. If you're unsure on which style of pen to choose, we have a guide which will help make your choice.